WORKERS' COMPENSATION CASE WATCH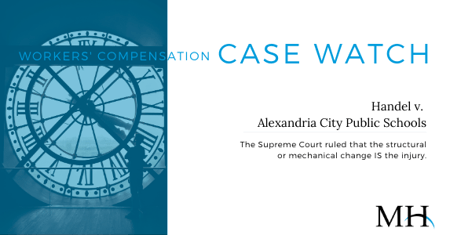 In Handel v. Alexandria City Public Schools, (October 15, 2020) the Supreme Court of Virginia found that the Court of Appeals incorrectly applied and defined the legal requirement of an "obvious sudden mechanical or structural change in the body."
The claimant, a teacher, slipped on a puddle on her classroom floor. She landed on her right side, alleging injuries to several body parts. The parties agreed that the claimant sustained several injuries in the fall, but the defendants disputed that she injured her right shoulder.
Following a hearing, the Deputy Commissioner concluded that the right shoulder injury was causally related to the work accident. On review, the full Commission affirmed, noting that the claimant fell on her right side, she reported symptoms of right shoulder pain to her initial health care providers, and a diagnosis of shoulder pain was rendered.
The defendants appealed the right shoulder award to the Court of Appeals, arguing that the Commission erred because the claimant did not prove an obvious sudden mechanical or structural change in the body. The Court of Appeals found the shoulder compensable, ruling that the claimant did not need to prove a structural or mechanical change in every body part affected by an accident as long as there is at least one sudden mechanical or structural change and each injury is caused by the accident.
The defendants appealed to the Supreme Court. The Supreme Court ruled that the structural or mechanical change IS the injury. The Supreme Court found that "..without such a change in a body part, there is no injury to it." The Supreme Court vacated and remanded to the Court of Appeals to determine whether the claimant suffered an injury to her shoulder or merely suffered transient pain.
Read the full opinion.
Read the previous edition of Workers' Compensation Case Watch:

Jessica Hacker Trivizas is a litigator who focuses her practice on workers' compensation, defending employers and carriers at the trial and appellate levels. She works with insurance carriers, third-party administrators, and self-insureds. Jessica worked on some of the largest settlements in the country, including the historic NFL Concussion Settlement Program, the BP Oil Spill settlement, and the Reglan/MCP Settlement Program. Her background on these mass claims resolution programs gives her unique insight into the work of claims adjusters.