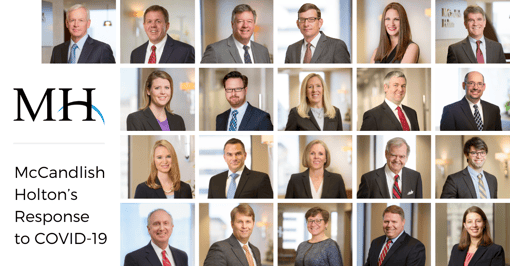 McCandlish Holton wishes to assure our clients and the community that we are working to maintain full operations during the current health crisis. We are carefully following the regional and national updates on the spread and impact of COVID-19 (Coronavirus) to protect our employees, clients, and community.
We are currently maintaining normal office hours, taking active steps to keep our employees and clients safe and healthy. Should circumstances require us to close our office, we will continue operations with attorneys and staff working from home. We plan to continue serving you with as little disruption as possible during this difficult and uncertain time.
With over 35 years of operations, the firm has had many opportunities to establish creative and agile systems that guarantee the highest quality work product at the best value to our clients. Faced with the uncertainty presented by the spread of coronavirus, we stand ready to continue advocating for our clients, as our attorneys have done, remotely and in-office, since the firm was established.
We will continue to keep our litigation clients updated on any court closings, canceled hearings and mediations, or any other changes to established dates and deadlines via email and on our blog and social media channels.
Our Immigration Practice Group will keep clients updated on changes in immigration processing as information becomes available.
We are mindful of our responsibility to serve you and to keep our community safe. With the right precautions and agility to respond to the changing circumstances, we believe we can successfully do both.