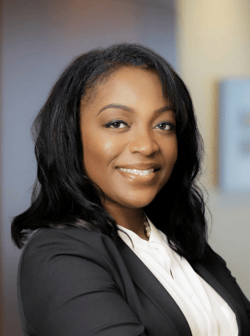 McCandlish Holton is pleased to announce civil litigation attorney Imie A. Harber as 'Director' with the firm. Imie joined the Litigation Practice Group in 2021 as 'Of Counsel.' Her practice also includes Business Law, Local Counsel, and, Municipalities and Local Governments.
''McCandlish Holton is thrilled that Imie is now a Director at the firm!'' said Cam Beck, Director of the Litigation Group. ''She is a fantastic trial lawyer who provides sound and practical advice to her litigation and corporate clients.''
Before joining McCandlish Holton, Imie served as in-house counsel for one of the country's largest insurance providers.
Imie has years of experience managing all aspects of civil litigation defense, such as, products liability, premises liability, and workers' compensation. Additionally, she has extensive experience with settlement negotiations and ADR practice, such as mediation and arbitration.
Imie's practice also focuses on supporting entrepreneurs and innovative businesses from inception through strategic growth and scaled operations in sectors such as technology and healthcare.
Connect with Imie
Get to know more about Imie and her family on her enhanced bio page.