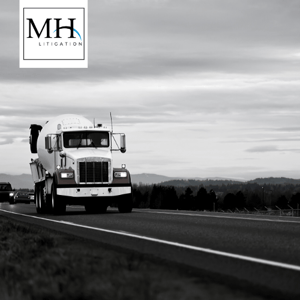 Trial attorney James Snyder and his team obtained a defense verdict on behalf of a concrete pumping company and its driver in a Virginia Circuit Court jury trial. The plaintiff, a passenger in a vehicle her husband was driving, filed a $1,000,000 lawsuit against the defendants, alleging the concrete pump truck operator failed to keep a proper lookout and, by doing so, caused a T-bone accident. The defendants, however, asserted the plaintiff's host vehicle failed to yield to the oncoming concrete pump truck and pulled in front of the truck, leaving the driver with no time to avoid the accident, despite his best efforts.
The injuries to the plaintiff were significant and not contested at trial. The plaintiff presented twelve witnesses over the course of the two day trial, eight of whom discussed the damages. The four liability witnesses included the defendant driver, two independent eyewitnesses and an accident reconstructionist. The defendants presented three liability witnesses, including the driver, a witness who spoke to the driver on the phone prior the accident (to refute claims the driver was on the phone when the accident occurred) and the company owner.
Although the direct testimony of the defendants' witnesses was critical, the most compelling testimony came during the cross-examination of the plaintiff's liability witnesses and the testimony of the two independent eyewitnesses, whose depositions were conducted at the behest of the defendants and presented at trial by video.
The jury deliberated for two hours and forty-five minutes before returning a verdict in favor of both defendants.

Jim Snyder. Having tried dozens of jury trials to verdict, Jim's passion is the courtroom. In addition to defending automobile claims, Jim also defends premises owners against slip/trip and fall claims. Jim's prior experience includes the representation of chemical manufacturers against toxic tort and product liability claims.
Brennan C. Morrissett advises clients in contract negotiations and disputes, purchases and sales, business entity formation and management, and business dissolutions. In her Litigation practice, Brennan represents corporations, small businesses and individuals in state and federal courts throughout Virginia. Her primary practice areas include premises liability and security, transportation, restaurant and retail liability, products liability and insurance coverage.

Megan N. Watson is an associate in the Litigation practice group. Megan joins McCandlish Holton from the Office of the Attorney General of Virginia where she interned as a fellow on the Medicaid Fraud Control Unit and the General Trial Unit. While earning her law degree from the Marshall-Wythe School of Law at the College of William and Mary, Megan held internships at the William & Mary Elder and Disability Law Clinic and the Legal Aid Society of Eastern Virginia.