Workers' Compensation Case Watch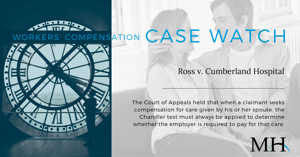 In Ross v. Cumberland Hospital, the claimant sustained a severe brain injury. Her doctor said it was medically necessary that she have a home health aide or family member oversight to assist her with activities of daily living and monitor safety concerns. The claimant filed a claim asking that her spouse be paid to provide home health care to her.
The Commission found that spousal care should be authorized. In reaching that conclusion, the Commission did not apply the "Chandler test" to the facts of the case. The Chandler test, which the Supreme Court of Virginia laid out in Chandler v. Warren Trucking, Co., 221 Va. 1109 (1981) is:
The employer knows of the employee's need for medical attention at home as a result of the industrial accident;
The medical attention is performed under the direction and control of a physician, that is, a physician must state home nursing care is necessary as the result of the accident and must describe with a reasonable degree of particularity the nature and extent of duties to be performed by the spouse;
The care rendered by the spouse must be of the type usually rendered only by trained attendants and beyond the scope of normal household duties; and
There is a means to determine with proper certainty the reasonable value of the services performed by the spouse.
In authorizing the spousal care, the Commission said that the Chandler test did not apply because the parties stipulated to the need for a home health aide, home health care was necessary medical attention, and the authorized treating providers had consistently stated that this treatment was reasonable and necessary for the claimant.
On appeal, the Court of Appeals found that the Commission erred by not applying Chandler. The Court held that when a claimant seeks compensation for care given by his or her spouse, the Chandler test must always be applied to determine whether the employer is required to pay for that care. The Court noted that the Chandler test helps distinguish between spousal care that is inherent in a marital relationship and spousal care that constitutes necessary medical attention. The Court remanded the case back to the Commission for further proceedings.
Read the previous edition of Workers' Compensation Case Watch:

Jessica Hacker Trivizas is a litigator who focuses her practice on workers' compensation, defending employers and carriers at the trial and appellate levels. She works with insurance carriers, third-party administrators, and self-insureds. Jessica worked on some of the largest settlements in the country, including the historic NFL Concussion Settlement Program, the BP Oil Spill settlement, and the Reglan/MCP Settlement Program. Her background on these mass claims resolution programs gives her unique insight into the work of claims adjusters.