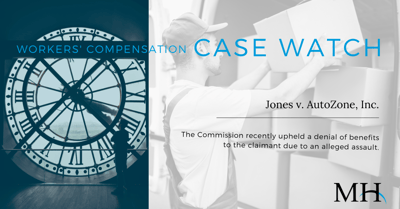 The Commission recently upheld a denial of benefits to the claimant due to an alleged assault in Jones v. AutoZone, Inc., JCN VA00001970794 (July 5, 2023).
The claimant was employed as a delivery driver. Over the course of his employment, he made deliveries to customers at various auto body shops. On one such delivery, the claimant was playing loud music in his vehicle. A mechanic of the customer's body shop took offense to the loud music. He reached into the claimant's vehicle and turned down the volume. The claimant was offended by the actions and expressed his discontent to the mechanic. Fueled by a prior history of disagreements with each other, this escalated into the mechanic threatening the claimant with violence. The claimant laughed in the mechanic's face and called him a felon. This further escalated the situation and the mechanic informed the claimant that he would meet him after work.
The claimant subsequently left the auto body shop without any physical contact with the mechanic. The claimant completed his deliveries for the day. When the claimant returned to his employer's facility, he saw that the mechanic was on the premises. Instead of driving off or calling either the police or his co-workers for assistance, the claimant determined that the mechanic was not carrying a weapon, and without even turning his car off, exited his vehicle to confront him. When the mechanic approached him, the claimant initiated physical contact. Mutual combat ensued until broken up by the claimant's employer.
Finding
The Deputy Commissioner found, and the Commission agreed, that while the subject matter of the initial arguments between the claimant and the auto body employee may have been due to the claimant's performance of his job as a delivery driver, the physical altercation was too far removed from those arguments to arise out of the employment.
In addition, the Commission stated that it could not find that the claimant was a victim of assault versus a willing participant and therefore, benefits were denied.
In Virginia, an assault on an employee by a co-worker or third party can be compensable provided it arises out of and in the course of the employment.
However, assaults that are personal in nature do not arise out of the employment and are not compensable. In addition, if a claimant is an aggressor or even a willing participant in the assault, it is not compensable because the claimant removed himself from the scope of his employment.
Read previous editions of Workers' Compensation Case Watch:
Lauren Hutcheson specializes in defending claims before the Workers' Compensation Commission, as well as personal injury defense. She routinely lectures to insurers, TPA's, and companies about the Virginia Worker's Compensation laws regarding how to best handle claims and reduce exposure. Lauren is also on the Worker's Compensation Steering Committee for ALFA International, the largest international legal network of law firms.