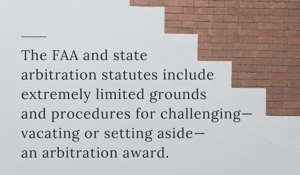 By: Brennan C. Morrissett
Arbitration awards are often described as ironclad, with arbitrators' findings generally not susceptible to challenge. Historically, and as a matter of public policy, arbitral power is intentionally limited to only those matters the parties have specifically contracted to subject to arbitration. This means an arbitrator has no power to rule on issues except for those expressly assigned to them by contract by the parties. Challenges to arbitrators' failure to observe this fundamental limitation led to several recent United States Supreme Court "exceeded authority" cases – one of four limited bases on which an arbitrator's finding can be challenged. These rulings give some much needed clarification—and backbone—to contract law as the fundamental tenet of arbitration.
Arbitration legislation exists at both the federal and state level. Arbitration law greatly favors the enforcement of arbitral awards, including domestic enforcement of internationally rendered awards. Like federal arbitral law, the public policy of Virginia similarly favors arbitration. Virginia's arbitration law, codified in Chapter 21 of Title 8.01 of the Virginia Code, includes Article 1, setting out the general provisions identifying who may submit a dispute to arbitration (Va. Code Ann. §§ 8.01-577 to 8.01-581.06), and Article 2, which sets out the VUAA (Va. Code Ann. §§ 8.01-581.01 to 8.01-581.016). The Federal Arbitration Act (the "FAA") is the principal federal statute governing arbitration. Section 2 of the FAA (9 U.S.C. § 2) provides for the validity, irrevocability, and enforceability of arbitration agreements. As substantive federal law, it supplants inconsistent state laws regarding interstate commerce transactions.
Notably, the FAA governs the construction of an arbitration agreement unless the agreement expressly provides that state law governs. Porter Hayden Co. v. Century Indem. Co., 136 F.3d 380, 383-84 n.6 (4th Cir. 1998); see also, Saturn Distrib. Corp. v. Williams, 905 F.2d 719, 727 (4th Cir. 1990) (allowing parties to incorporate state law restrictions into their arbitration agreement which the FAA would otherwise preempt)).
The FAA and state arbitration statutes include extremely limited grounds and procedures for challenging—vacating or setting aside—an arbitration award. Under the FAA, an award may be set aside if (1) the award was procured by corruption, fraud, or undue means; (2) there was evident partiality or corruption by the arbitrators; (3) the arbitrators were guilty of misconduct in refusing to postpone the hearing for sufficient cause, in refusing to hear pertinent and material evidence, or any other misbehavior which prejudiced any party's rights; or (4) the arbitrators exceeded their powers or so imperfectly executed them that a mutual, final, and definite award was not made. 9 U.S.C. § 10(a). These are the exclusive grounds for setting aside an award under the FAA, and the parties may not expand them by agreement. Hall Street Assocs., L.L.C. v. Mattel, Inc., 552 U.S. 576 (2008).
Arbitration agreements are governed by contract law, they define the parties' (and the arbitrator's) respective obligations thereunder. Volt Info. Sci., Inc. v. Bd. Of Tr. Of Leland Stanford Junior Univ., 489 U.S. 468, 480 (1989). The United States Supreme Court has emphasized this, recognizing the FAA's central purpose is to ensure that private agreements to arbitrate are enforced according to their terms, instructing courts and arbitrators to give effect to the parties' contractual rights and expectations. Stolt-Nielsen S. A. et al. v. AnimalFeeds International Corp., 559 U.S. 662, 664 (2010) (quoting Volt, 489 U.S. at 479) (emphasis added).
The United States Supreme Court has held that arbitrators exceed their powers under Section 10(a)(4) if they stray from interpretation and application of the agreement, substituting their "own brand of justice" for the parties' agreement. See Stolt-Nielsen, S.A. v. AnimalFeeds, Int'l Corp., 559 U.S. 662, 668 (2010). Under this standard—sometimes referred to as the "essence of the agreement" or manifest disregard of the agreement standard—the court may review an arbitrator's decision on issues that the parties agreed to arbitrate to determine whether there is some arguable basis on which to conclude that the arbitrator construed or applied the parties' agreement. See, e.g., Stolt-Nielsen, 559 U.S. at 668-72; Oxford Health Plans LLC, v. Sutter, 133 S. Ct. 2064, 2068-71 (2013). If there is not, the award may be vacated.
The United States Supreme Court recently reiterated the importance of strict adherence to the FAA and the contractual underpinnings limiting arbitral authority. In Henry Schein, Inc., et al. v. Archer & White Sales, Inc., 139 S. Ct. 524 (2019), the United States Supreme Court recognized that when a dispute arises, the parties often disagree not only about the merits of the dispute, but also the threshold question of arbitrability. The answer to who decides arbitrability is itself a question of contract. The Supreme Court rejected the judge-made "wholly groundless" exception to arbitrability as inconsistent with the FAA and U.S. Supreme Court precedent. See generally, Henry Schein, 139 S. Ct. 524. In examining the contractual basis and statutory basis of arbitral power, the Supreme Court explained, the short answer is that the FAA contains no "wholly groundless" exception, and Courts and arbitrators may not engraft their own exceptions onto the statutory text. See Exxon Mobil Corp. v. Allapattah Services, Inc., 545 U. S. 546, 556−557 (2005). In the same vein, it further explained that when parties contract to arbitrate, they must interpret the FAA as written, which requires that we interpret the contract as written, underscoring the strict contractual obligation observance set out in Stolt-Nielsen, supra. See, Henry Schein, 193 S. Ct. at 529 (emphasis added). A court may not override the contract under any circumstances. Id. at 526.
In light of this guidance, and following a trend of arbitrators straying further and further from the strict guidance of the FAA and the limited power granted to them by the parties, practitioners ought to pay special attention to the metes and bounds of the matters assigned to arbitrators by the terms of the arbitral contractual provision. This means parties should begin to think strategically about the ultimate enforcement of awards at the contract drafting stage. Challenging an arbitral award is an intentionally daunting task. However, focusing on the contractual core of arbitration along with recent Supreme Court guidance aimed at reigning in rogue arbitrators gives some helpful guidance to framing the rare, but potentially successful challenge.
Brennan C. Morrissett advises clients in contract negotiations and disputes, purchases and sales, business entity formation and management, and business dissolutions. In her Litigation practice, Brennan represents corporations, small businesses and individuals in state and federal courts throughout Virginia. Her primary practice areas include premises liability and security, transportation, restaurant and retail liability, products liability and insurance coverage. With experience in business, real estate, and intellectual property matters, Brennan is able to advise businesses and individuals for litigation avoidance and equally able to provide counsel should litigation ensue.