By: Samantha S. Otero, Business Law Practice Group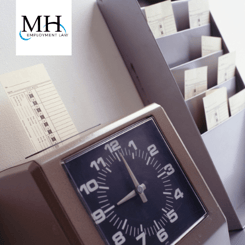 On September 24, 2019, the U.S. Department of Labor announced a final rule on overtime, increasing the earning threshold for employees treated as exempt from the Fair Labor Standards Act (FLSA) minimum wage and overtime pay requirements. This new rule, effective January 1, 2020, raises the federal overtime exemption threshold from $23,660 per year ($455/week) to $35,568 per year ($684/week). With respect to highly compensated employees, the total annual compensation test is now $107,432.
The final rule permits employers to apply non-discretionary bonus and other incentive payments to satisfy up to 10 percent of the standard salary level, provided such non-discretionary payments are paid at least annually or more frequently. The final overtime rule does not include a provision that automatically would increase the salary level test or total annual compensation amount on some regular or periodic basis. Most significantly, the final overtime rule does not make changes to the duties tests for these exemptions.
So what should employers do, in light of the upcoming changes?
Raise salary levels for exempt employees to at or above the threshold amounts.
Reclassify employees as non-exempt if you are not willing to increase currently exempt employees' salaries to the higher level. Keep in mind that exempt employees often take pride in their exempt status and you may need to be sensitive to this when explaining the need for the change in status.
If you do reclassify employees to non-exempt status, remember to pay them overtime at time and one half for all hours worked in excess of 40 in each workweek.
Prior to the January 1, 2020 effective date, explain the changes that will occur to your employees and revise any job descriptions accordingly.
Be aware of the penalties for noncompliance, which, in addition to payment of back wages, can include criminal prosecution, attorneys' fees and individual liability.
The new overtime rule is published in the Federal Register. The DOL's Wage and Hour Division (WHD) linked to the Federal Register on its new overtime portal, which includes additional resources such as:
If you have any questions, the employment law attorneys at McCandlish Holton are here to help. Reach Sam Otero at (804) 775-3868 for assistance.

Samantha ("Sam") Otero counsels employers and executives in all aspects of employment law. Sam routinely advises her clients on the requirements they face in hiring, employment policies, layoffs, discipline, EEOC Charges, discrimination allegations and wage and hour issues, including overtime and classification determinations. She also defends allegations of harassment as well as disputes arising out of employment contracts, including covenants not to compete.