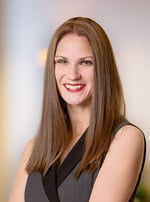 Jennifer Minear has completed her one-year term as the 74th president of the American Immigration Lawyers Association, the largest association of immigration attorneys in the world, and completed her sixth year as an elected member of AILA's Executive Committee. Jennifer will remain as an adviser to the Executive Committee for the coming year as immediate past president, as well as a voting member of the AILA Board of Governors and chair of the Nominating Committee that nominates AILA's next crop of national elected leaders for next year. Jennifer and AILA's new president, Allan Orr, look back on the unusual circumstances of the past year and discuss the challenges and opportunities that lie ahead in the most recent episode of Connection Point, AILA's mini-series newly produced during Minear's tenure. [Hear Connection Point Episode #3]
Recently, Jennifer was a guest on the podcast Rational Middle where she spoke about the particular challenges of leading AILA and their almost 16,000 members during a historically anti-immigration administration that made innumerable policy and legal changes to immigration law in the U.S. [Hear Episode 83: ''Immigration Law in the Shadow of Trump with Jennifer Minear.'']
''...being a member of AILA is really an indispensable part of being an immigration lawyer. So being a member of the organization was pretty much a no-brainer...But the question of getting involved in leadership, that was more of something that I was driven by my heart to do because I love the AILA community and I found it was such a collegial and open and respectful group of people who shared so much of their time and energy and talent so selflessly...it just really drew me in...and that community is something I really felt compelled to help preserve and strengthen so that's why I got involved in leadership.'' - Jennifer Minear, Excerpted from Rational Middle [audio podcast], Episode 83: ''Immigration Law in the Shadow of Trump with Jennifer Minear.''
Already faced with broad-reaching executive orders limiting immigration of certain groups, frequent procedural changes announced by USCIS, usually resulting in ''the exact opposite thing you think is the right thing to do,'' and stagnancy of application processing times during ''one of the most anti-immigration administrations ever,'' Jennifer's 2020-2021 tenure was further complicated by the global COVID-19 pandemic and leading the organization during an administration change in the White House.
When asked about what she is most proud of when looking back over the past year, those circumstances feature prominently on her list:
Leading and managing an 80+ member governing board through multiple online Zoom meetings all year long;

Promoting and protecting civility, diversity, and inclusion within the AILA community;

Shepherding a dues restructuring proposal through the board that will get us onto more stable financial footing going forward; and,

Re-imagining ways to provide needed tools and resources to immigration attorneys in a virtual environment that assisted them with navigating the last 6 months of the Trump administration, the first 5 months of a new administration, and the personal, professional, and practice management challenges of the global pandemic.
Looking forward, Jennifer feels, ''Really hopeful about the prospects for restoring fairness and efficiency to our immigration system and working with the new administration on executive and legislative reforms.''
McCandlish Holton Managing Director and Immigration Attorney, Mark Rhoads, congratulates Jennifer on completion of her term and further notes: ''This has been a challenging year for immigration attorneys and our clients, and Jennifer's work has been outstanding (even if grueling). Congratulations to Jennifer on her work over the past year.''
About AILA
The American Immigration Lawyers Association (AILA) is the national association of immigration lawyers established to promote justice, advocate for fair and reasonable immigration law and policy, advance the quality of immigration and nationality law and practice, and enhance the professional development of its members.
Follow Jennifer and her advocacy through AILA on twitter: https://twitter.com/JenniferMinear.