Amanda Belliveau is selected by Virginia Lawyers Weekly as an Honoree in the 2023 Class of Leaders in the Law. Chair of the Workers' Compensation practice group, Amanda represents employers and carriers in the defense of workers' compensation claims, handling matters through all levels of the litigation process.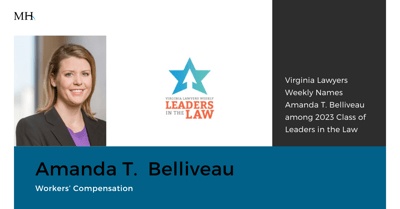 "Leaders in the Law" is Virginia Lawyers Weekly's signature event. VLW honors an annual class of lawyers who are setting the standard for other lawyers, including outstanding contributions to the practice of law in Virginia, significant achievements through the practice of law, leadership in improving the justice system and important contributions to Virginia's legal community and/or the community at large.
VLW asked the Honorees for biographical information that is not usually found in an attorney bio, allowing us to learn more about this exceptional advocate:
Where did you grow up and what impact did that location/environment have on you?
I grew up in Houston, Texas, which is wonderfully diverse. I loved living in a big city without feeling like I was in a city, with a thriving restaurant, art, and social scene growing within it. Richmond has felt similar in many ways, albeit on a smaller scale (which is great for traffic).
Who was an important non-family mentor in your life and how did this person impact your career?
Nate Green, who is now the Commonwealth's Attorney of Williamsburg/James City County, hired me to be an intern at the CA's office the summer after my 1L year of law school - this was what made me love litigation. The work I did with Nate and the other attorneys at the office was incredibly rewarding and taught me some of the most important foundational blocks of my career.
What do you consider your biggest personal accomplishment and why?
Beating cancer. I was diagnosed when I was 19 over Christmas break during my freshman year of college and immediately had surgery. I had follow-ups and treatments throughout college, and my second surgery immediately after graduation, and I have had good news ever since. The accomplishment was not so much the battle itself as was the effect of it all - the medical journey resulted in a lot of personal growth and helped me see my friends, family, and opportunities in a different way.
What do you consider your biggest professional accomplishment and why?
My first oral argument before the Court of Appeals of Virginia will always be memorable for me. I was arguing against a very experienced appellate practitioner before a panel that I found to be particularly impressive, and I was surprised to feel a nervousness I had only felt before when on a starting block at a swim meet just before the race begins. I was well-prepared, the results went well for my clients, and the claim has been oft-cited precedent.
What is the most surprising bit of good advice you ever received?
Don't ask unnecessary questions.
What was your first job? What did you learn from the experience?
I was a lifeguard - I learned that you can give some people every flotation device you can think of, and they will still find a way to sink like a rock. Other people will not require anything at all and will be just fine. This also applies when it comes to preparing witnesses for depositions and hearings.
Please describe the most humbling experience you have had as a lawyer. What did you learn?
While taking the deposition of a litigant who was working as a maid, I asked about her work history and discovered she had a twenty year career as an attorney in her home country before coming to the United States. One should never assume your opponent is not armed with the same knowledge you have just because they lead a different life now.
What has been your biggest career challenge?
Not having enough time in the day.
Please share your best tip for balancing your professional life and your personal life.
On weekdays, I get my kids ready for daycare each day and make sure I cut myself off at work to get home to give them undivided time for dinner and bedtime. I will then pick work back up again after they go to bed. On weekends, I play catch up on work when necessary between play sessions with the family. Ultimately, it is important to have good support systems both in and out of the office.
If you hadn't become a lawyer, what field would you have entered?
I would have been a vet.
Everyone has a "guilty pleasure." What is yours?
Chocolate ice cream.
What's a favorite vacation/getaway location?
Cape Cod
If you had a month off, what would you do?
I would go to Kenya and Tanzania.
Previous Years McCandlish Holton attorneys have been VLW Leader in the Law Honorees:
Jennifer A. Minear, 2022
D. Cameron Beck, Jr., 2021