ALFA International has recognized McCandlish Holton as its 2019 "Law Firm of the Year."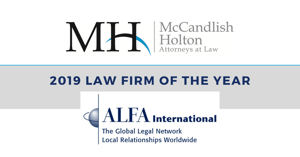 ALFA International is a global legal network of over 150 member firms. Founded in 1980, it was the first of its kind. When selecting one of the network's law firms, clients benefit from the knowledge, services and resources of many other excellent law firms throughout the U.S. and around the world. Each year, ALFA selects the "Law Firm of the Year" to recognize a firm that has been particularly active in advancing the organization.
McCandlish Holton Managing Director, Mark Rhoads, received the award at the Annual Business Meeting in Chicago on October 24, 2019. When sharing the news with the entire firm, Mark acknowledged the original involvement of Morris & Morris and the continued efforts by today's firm leadership: "This award is a testament to Phil Morris's long involvement in ALFA and to the work in leadership positions held in the organization by Cam Beck for Transportation & Trucking, Joe Moore for Hospitality & Retail Law, Lauren Hutcheson for Workers' Compensation and the ALFA Women's Initiative programs, Lex Dunn for Insurance Coverage, and Mike Ward for Product Liability & Complex Torts."
View our ALFA International profile.