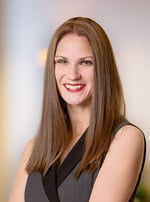 McCandlish Holton is very proud to announce that today marks the beginning of Jennifer Minear's tenure as president of the American Immigration Lawyers Association. AILA is the largest association of immigration attorneys in the world with over 15,000 members worldwide.
Managing Partner and immigration attorney, Mark Rhoads announced the start of Jennifer's term as president in a firm-wide memo, congratulating her on this prominent role:
"This is testament to Jennifer's hard work on behalf of AILA and in the field of immigration law generally. These are challenging times in the field of immigration law and for those seeking a better and safer life in this country. In Jennifer, AILA and the immigration legal community have an outstanding advocate and spokesperson. McCandlish Holton is proud of this important achievement and wholeheartedly congratulate Jennifer in her new role."
About AILA
The American Immigration Lawyers Association (AILA) is the national association of immigration lawyers established to promote justice, advocate for fair and reasonable immigration law and policy, advance the quality of immigration and nationality law and practice, and enhance the professional development of its members.
Read AILA's announcement about its new executive board.
Follow Jennifer and her advocacy through AILA on twitter: https://twitter.com/JenniferMinear.