By: Jim Snyder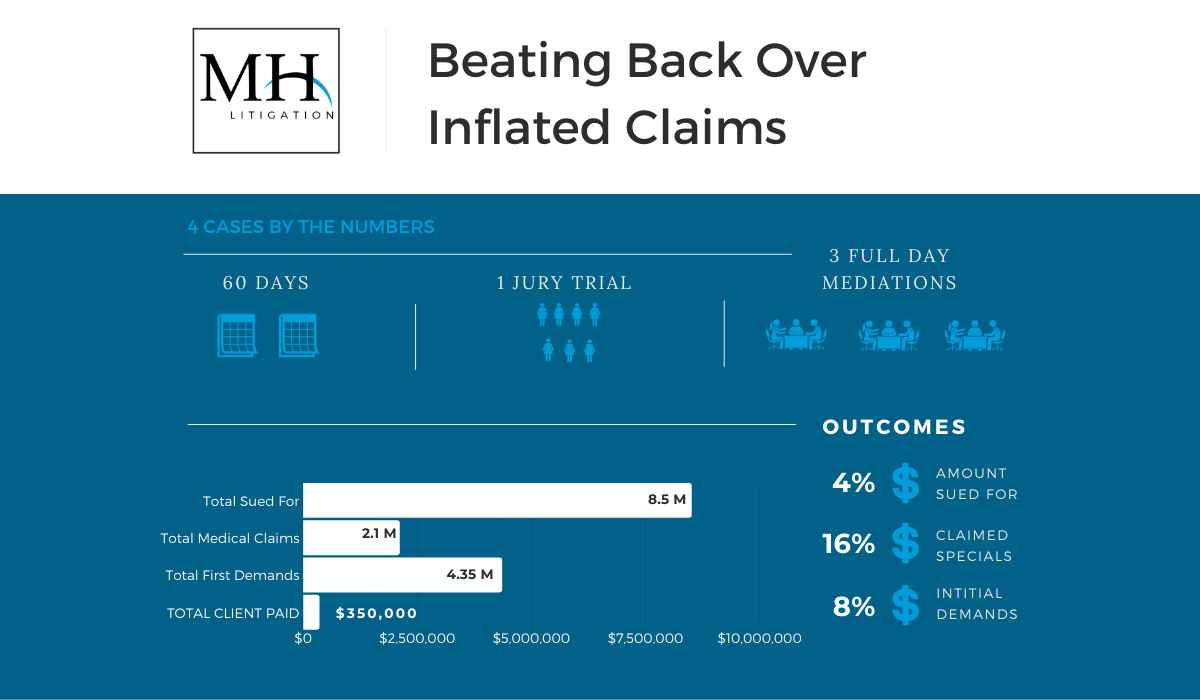 TBIs have become the modern day whiplash. Increasingly, we see claimed head injuries and alleged traumatic brain injuries as often as classic soft tissue injuries. It used to be, when we received a rear-end case to defend, we knew the claim would involve upper back and neck sprains/strains. Now, when a case lands in our office, chances are good the plaintiff is going to make some claim of brain dysfunction as a result of the accident. Whether it is a severe collision with obvious head trauma or a parking lot bump where the plaintiff barely nods, we know TBI will likely be an issue somewhere down the road.
During a two month stretch this past summer, our team aggressively attacked and resolved four such cases (see our infographic above). Each case was grossly over-inflated and the defense needed to be aggressive. Used collectively, these three strategies dramatically corrected the amounts our clients paid, reducing amounts sued for to only 4% in final payments, whether it went to trial or was resolved in mediation:
We retained top notch experts of our own and vigorously attacked both the credentials and methodology of the plaintiffs' experts.
We successfully limited opposing expert opinions while offering virtually unadulterated opinions for the defense.
We used social media to show with reliability that a plaintiff is functioning at the same level as before the accident. Social media proved to be a treasure trove of discoverable, admissible, and compelling evidence.
Every defense takes a team effort. And our team had a spectacular summer employing the strategies that work in every season.

Jim Snyder, Director. Having tried dozens jury trials to verdict, Jim's passion is the courtroom. In addition to defending automobile claims, Jim also defends premises owners against slip/trip and fall claims. Jim's prior experience includes the representation of chemical manufacturers against toxic tort and product liability claims.
Brennan C. Morrissett advises clients in contract negotiations and disputes, purchases and sales, business entity formation and management, and business dissolutions. In her Litigation practice, Brennan represents corporations, small businesses and individuals in state and federal courts throughout Virginia. Her primary practice areas include premises liability and security, transportation, restaurant and retail liability, products liability and insurance coverage.

Megan N. Watson is an associate in the Litigation practice group. Megan joins McCandlish Holton from the Office of the Attorney General of Virginia where she interned as a fellow on the Medicaid Fraud Control Unit and the General Trial Unit. While earning her law degree from the Marshall-Wythe School of Law at the College of William and Mary, Megan held internships at the William & Mary Elder and Disability Law Clinic and the Legal Aid Society of Eastern Virginia.