Associate Attorney, Eva Roffis is selected as an honoree by Virginia Lawyers Weekly to the 2023 Class of Up & Coming Lawyers. The "Up & Coming Lawyers" program recognizes attorneys who, in their first 10 years of practice, have been making a name for themselves and displaying the determination and accomplishments that establish them as leaders of the future.
Eva represents employers in a wide variety of industries, including transportation, construction, and healthcare, and insurance carriers, in the defense of workers' compensation claims in Virginia. She also regularly advises clients on defense strategies, including compensability analysis and settlement recommendations. Clients appreciate how responsive and skillful Eva is when working on their claims.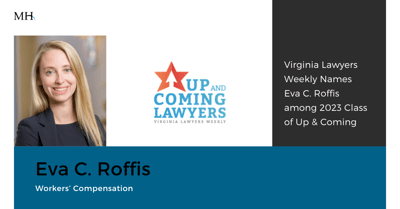 Eva's passion for workers' compensation law began when she worked as a Litigation Paralegal at McCandlish Holton prior to enrolling in law school.
Virginia Lawyers Weekly interviewed the honorees allowing us to learn more about Eva's path to becoming an "Up & Coming" attorney:
Where did you grow up and what impact did that location/environment have on you? Richmond, Virginia (specifically the Short Pump area). Richmond has changed so much (for the better!) since I was young and has shown me that change can be a good thing, even when I try my best to resist it sometimes!
Who was an important non-family mentor in your life and how did this person impact your career? Amanda Tapscott Belliveau, Esq. She was one of my supervisors when I worked as a paralegal (see below) and is my current supervisor and managing director of the workers' compensation group at McCandlish Holton. Not only has she taught me how to succeed in my practice, but has shown me what it means to be a leader in the field.
What was your first job? What did you learn from the experience? My first job was babysitting. I learned responsibility and that kids do not go to bed when their parents claim they do!
My first job out of college was as a workers' compensation paralegal at McCandlish Holton. It confirmed my desire to go to law school and ultimately, set my whole career in motion.
Knowing what you know now, what advice would you give to your younger self in law school? Treat school like a full-time job and stick to a schedule, as it will be an easier transition into your career.
Please share your best tip for balancing your professional life and your personal life. Make plans with friends/family each week and prioritize their time. It helps me to sit down and make a schedule each week, including which nights I will work a bit later, and which nights I will see friends/family, even if for only an hour or two. And put down your phone when you are with them!
If you hadn't been a lawyer, what field would you have entered? I would have wanted to be a florist. I got into flower arranging as stress relief during the pandemic and the hobby has continued. I always have fresh flowers in my house and know I would enjoy being surrounded by them daily.
Everyone has a "guilty pleasure." What is yours? Reality TV. It is a way for me to disconnect and the story lines are usually not too complicated, so don't have to pay too much attention!
What's a favorite vacation/getaway location? Marco Island, Florida. I have been going with my family since I was young. It is definitely my happy place.
If you had a month off, what would you do? Travel abroad. There are still tons of places in Europe I would love to explore and have always wanted to go to Australia/New Zealand.
What are two facts about you that most people may not know? 1) I have never been ice skating; (2) I don't have my ears pierced.